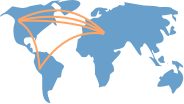 Show Academic Trajectory
I work on cryptography and number theory. I'm chair of the Coding Theory and Cryptology group at the Technische Universiteit Eindhoven in the Department of Mathematics and Computer Science.
Currently I'm also scientific director of the Eindhoven Institute for the Protection of Systems and Information (Ei/Ψ). Please use the navigation on the left to find content.