Chief Scientist
Sign in to view more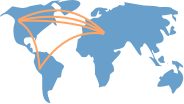 Show Academic Trajectory
Aloha, I'm the chief scientist at Salesforce where I lead teams working on fundamental research (deep learning, natural language processing, computer vision, speech and recommendation), applied research, product incubation and building a cross-product AI platform. Previously, I was an adjunct professor at Stanford's computer science department and the founder and CEO/CTO of MetaMind which was acquired by Salesforce in 2016. In 2014, I got my PhD in the CS Department at Stanford. I like paramotor and water adventures, traveling and photography. More info:
Forbes article with more info about my bio.
New York Times article on a project at Salesforce Research.
CS224n - NLP with Deep Learning class I used to teach.
TEDx talk about where AI is today and where it's going.
My Twitter account for announcements and photos.